New Years Eve isn't the same with small children around. The last couple of years we have generally been tucked up in bed as the bells chime and fireworks bring in the next year, which to be honest is fine by me.
This year was no different but we did however have a little minibreak planned for the first weekend in 2014 and we headed for two nights to St Anne's near Blackpool with some lovely friends and their family. The sea was a pretty rough when we arrived on the Friday afternoon but on the Saturday, all wrapped up warm, we had a fantastic explore on the beach. There were loads of shells that looked as though they had been dragged from the seabed and dumped on the beach!
As well as the beautiful beach there are sand dunes to play in and a great pier with amusement arcades and cafes. We had such fun!
Luckily I had been loaned a great little gadget called a Mi-fi from Three which enabled me to have internet access to keep on blogging despite being away from home. It was really easy to set up and holds a charge so you can use it out and about. How fab is that!? They can be purchased as pay as you go or on contract and are really handy little devices to have. Although wifi is available in some places it isn't always available and usually comes at a cost so these do make sense for blogging on the go.
We stayed at the Dalmeny Hotel which is very popular with families due to its children's activities such as arts and crafts, Nerf Wars and a swimming gala which went down very well with our two boys. It has a relaxed atmosphere, spacious rooms and as well as a 25 metre pool there is a sauna, steam room and jacuzzi and lots of places to sit and relax whilst the kids have fun in the games room making friends.
So this was our New Year and great fun it was too!
Linking up with Magic Moments..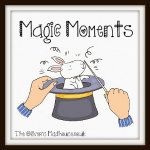 and What's the Story..