The Fire and Police museum is located on the site of the original Fire and Police Station in West Bar, Sheffield. I had bought a deal on Groupon for a family ticket and as the boys love all things "emergency" we thought we would try it out on Saturday when we were planning a family day out.
One side of the museum is devoted to the historic Police station including the original cells, police cars and bikes as well as stacks if other fascinating pieces. What struck me was how small some of the earlier vehicles are compared to the modern day ones.
The other side is largely fire engines and equipment through time. Most you are able to go inside and try on the firemen hats. The boys loved this!
The biggest treat of all was a ride in a recently decommissioned fire engine through the streets of Sheffield. It was only a five minute trip but fab fun!
It isn't a very big museum and can easily be all seen in a couple of hours or less. Afterwards we went to one of  our favorite restaurant in Sheffield – Zeugma Iki for Turkish food. Yum!
Linking up with Magic Moments..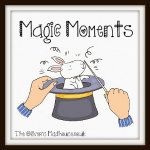 and Fun Photo Fun